SCOLAR's new radio programme promotes Putonghua (with photo)
To promote "lively learning and use of Putonghua", the Standing Committee on Language Education and Research (SCOLAR) has commissioned the Metro Radio to launch a new radio programme tomorrow (18 May) introducing Putonghua pronunciation of some terms commonly found in economic news.
This 20-episode radio programme is one of the SCOLAR's Putonghua promotion activities in 2009. It will be broadcast at 8:18 a.m. on Metro Finance during the regular programme "Breakfast with Heung Shu Fai" from Monday to Friday until 12 June.
SCOLAR staged a Putonghua Carnival today (17 May) to announce details of the new radio programme and other activities promoting Putonghua. Artistes Soler, FAMA and Niki Chow attended the carnival to share their experiences of learning and using Putonghua. The winner of last year's Putonghua drama competition, St. Paul's College Primary School, and winners of last year's Putonghua singing competition, Mak Hiu-tung and Chung Wai-in, also performed at the event.
SCOLAR has been organising large-scale activities for students and the community since 2002 to promote Putonghua. In addition to the radio programme, this year's activities include the Putonghua Radio Drama Training and Competition; the Inter-Varsity Putonghua Debating Competition for Guangdong, Hong Kong and Macau and the Putonghua Broadcaster Competition (for public and secondary school students) co-organised with RTHK; the Putonghua Singing Competition for Primary and Secondary Schools with the Hong Kong Professional Teachers' Union; the Putonghua Public Speaking Competition for Primary and Secondary Schools with the Cultural and Educational Association of the New Towns; the Putonghua Training Programme for Student Tourism Ambassadors with the Hong Kong Community College of Hong Kong Polytechnic University; and the School-based Putonghua Drama Training Programme with Prospects Theatre. The series of activities will wrap up with a finale show which will bring this year's promotional activities to a climax.
Free admission tickets are available for some of these activities. For more details, please refer to the SCOLAR website at http://www.language-education.com.
Established in 1996, SCOLAR advises the Government on language education issues and the use of the Language Fund.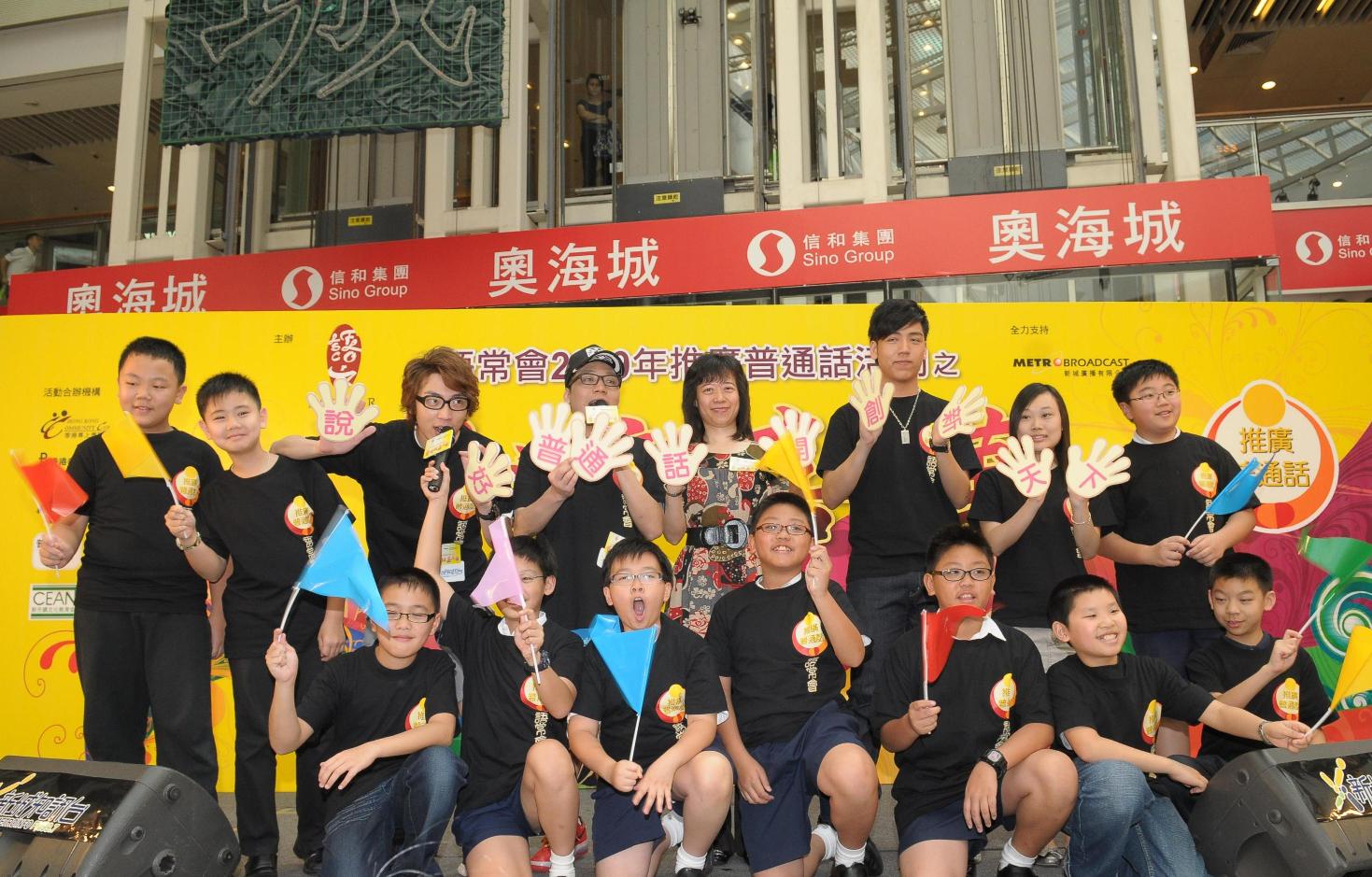 Caption
SCOLAR Member, Ms Mary Wong, (fifth from left in the second row), artiste FAMA (third and fourth from left in the second row) and the audience pledge their support for "lively learning and use of Putonghua" at the Putonghua Carnival organised by SCOLAR for its Promotion of Putonghua 2009.