Public speaking practice improves Putonghua proficiency: SCOLAR Chairman (with photo)
The Chairman of the Standing Committee on Language Education and Research (SCOLAR), Mr Michael Tien, encouraged students to practise their public speaking skills to improve their Putonghua proficiency.
Attending the prize presentation ceremony of the 11th Putonghua Public Speaking Competition for Primary and Secondary Schools today (16 May), Mr Tien said that Putonghua public speaking could help train students' pronunciation, tone and rhythm, which could in turn effectively improve their oral presentation skills and confidence in using the language.
He said that students could enhance their Putonghua standards and self-confidence by participating in the competition. They were also encouraged to learn from other contestants to enhance their skills in public speaking.
The public speaking competition is one of the SCOLAR's Putonghua promotion activities in 2009. It was organised by the Cultural and Educational Association of the New Towns with a record of 1 200 students competing in five sections ranging from junior primary to senior secondary. The most active participating school in the competition with the highest scores in all sections was also awarded.
SCOLAR has been organising large-scale activities for students and the community since 2002 to promote Putonghua. In addition to the public speaking competition, this year's activities include the Putonghua Radio Drama Training and Competition; the Inter-Varsity Putonghua Debating Competition for Guangdong, Hong Kong and Macau and the Putonghua Broadcaster Competition (for public and secondary school students) co-organised with RTHK; the Putonghua Singing Competition for Primary and Secondary Schools with the Hong Kong Professional Teachers' Union; the Putonghua Training Programme for Student Tourism Ambassadors with the Hong Kong Community College of Hong Kong Polytechnic University; the School-based Putonghua Drama Training Programme with Prospects Theatre; and a radio programme produced by Metro Radio that introduces Putonghua pronunciation of some terms commonly found in economic news. The series of activities will wrap up with a finale show bringing this year's promotional activities to a climax.
Free admission tickets are available for some of these activities. For more details, please refer to the SCOLAR website at http://www.language-education.com.
Established in 1996, SCOLAR advises the Government on language education issues and the use of the Language Fund.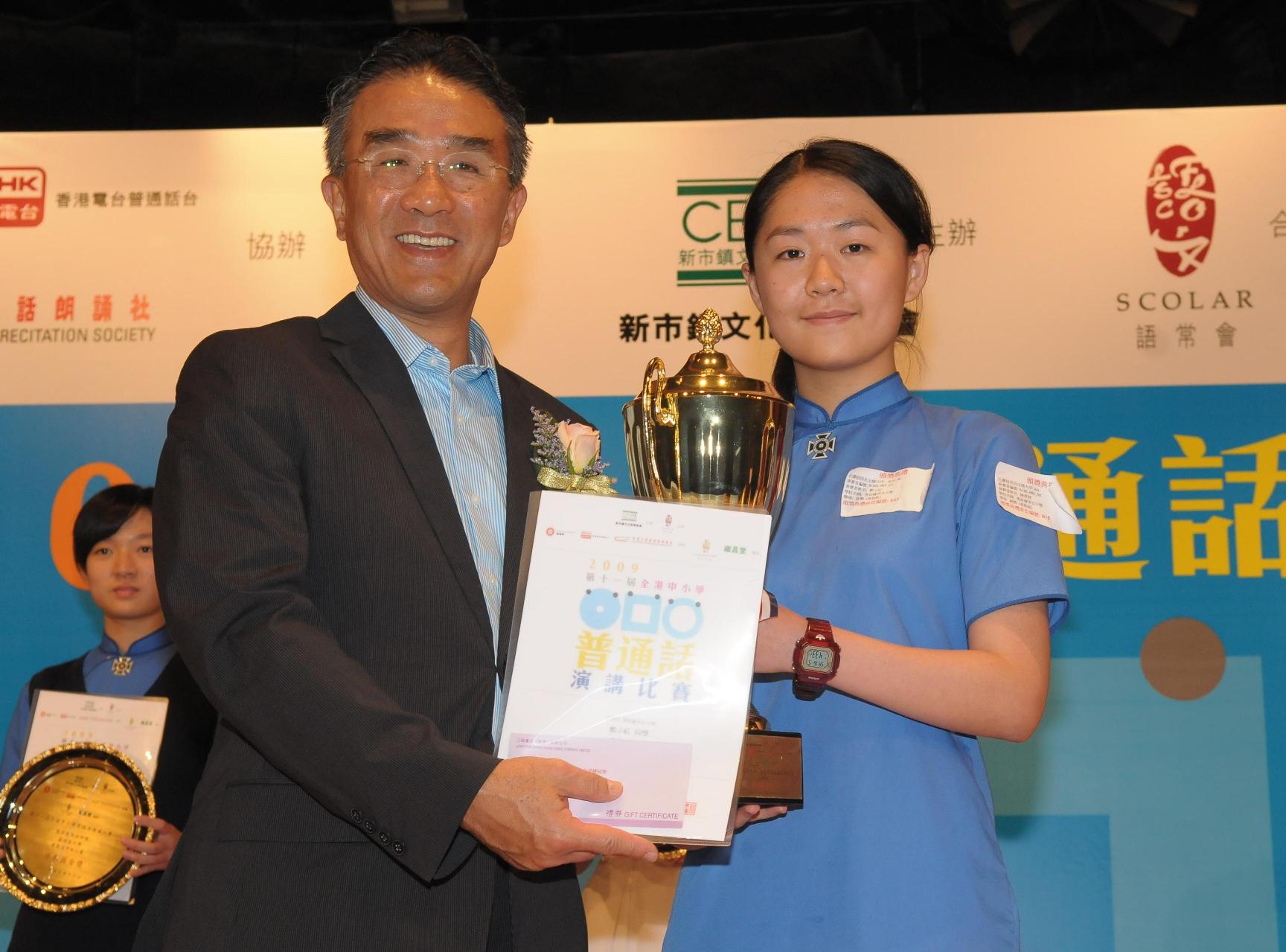 Caption
SCOLAR Chairman, Mr Michael Tien (left), presents the prize to the winner of the senior secondary section, Vicky Cheng of St. Paul's Co-educational College, at the 11th Putonghua Public Speaking Competition for Primary and Secondary Schools 2009.