Student tourism ambassadors promote Hong Kong tourism in Putonghua (with photo)
The well-received Achievement Exhibition for the Putonghua Training Programme for Student Tourism Ambassadors is re-staged at the Avenue of Stars at Tsim Sha Tsui this week until Sunday (31 August).
Adding momentum to the exhibition, four outstanding teams of student tourism ambassadors will present local culture and scenic spots to the public and tourists in Putonghua on Saturday and Sunday (30 and 31 August) between 6:00 p.m. and 7:30 p.m.
The student tourism ambassador training programme was an integral part of the Putonghua Promotion Programme 2007/08 organised by the Standing Committee on Language Education and Research (SCOLAR). It aimed at training secondary students as tourism ambassadors by combining tourism and Putonghua learning.
Upon completion of their training, participating students were required to design a series of exhibition panels highlighting Hong Kong's tourist attractions. Some of the outstanding work, accompanied by on-site introductions by the student tourism ambassadors, went on public display at the Avenue of Stars in May.
In view of the overwhelming response to the exhibition by the tourists, the organiser of the training programme, the Hong Kong Community College of the Hong Kong Polytechnic University, is staging the exhibition again to provide more opportunities for the students to practise their Putonghua.
The training programme involved some 280 students from 40 secondary schools. They received three months of training in speaking skills and tourism subjects and made field trips to historic sites.
SCOLAR has been organising large-scale activities to promote the learning and use of Putonghua since 2002.
Established in 1996, SCOLAR advises the Government on language education issues and the use of the Language Fund.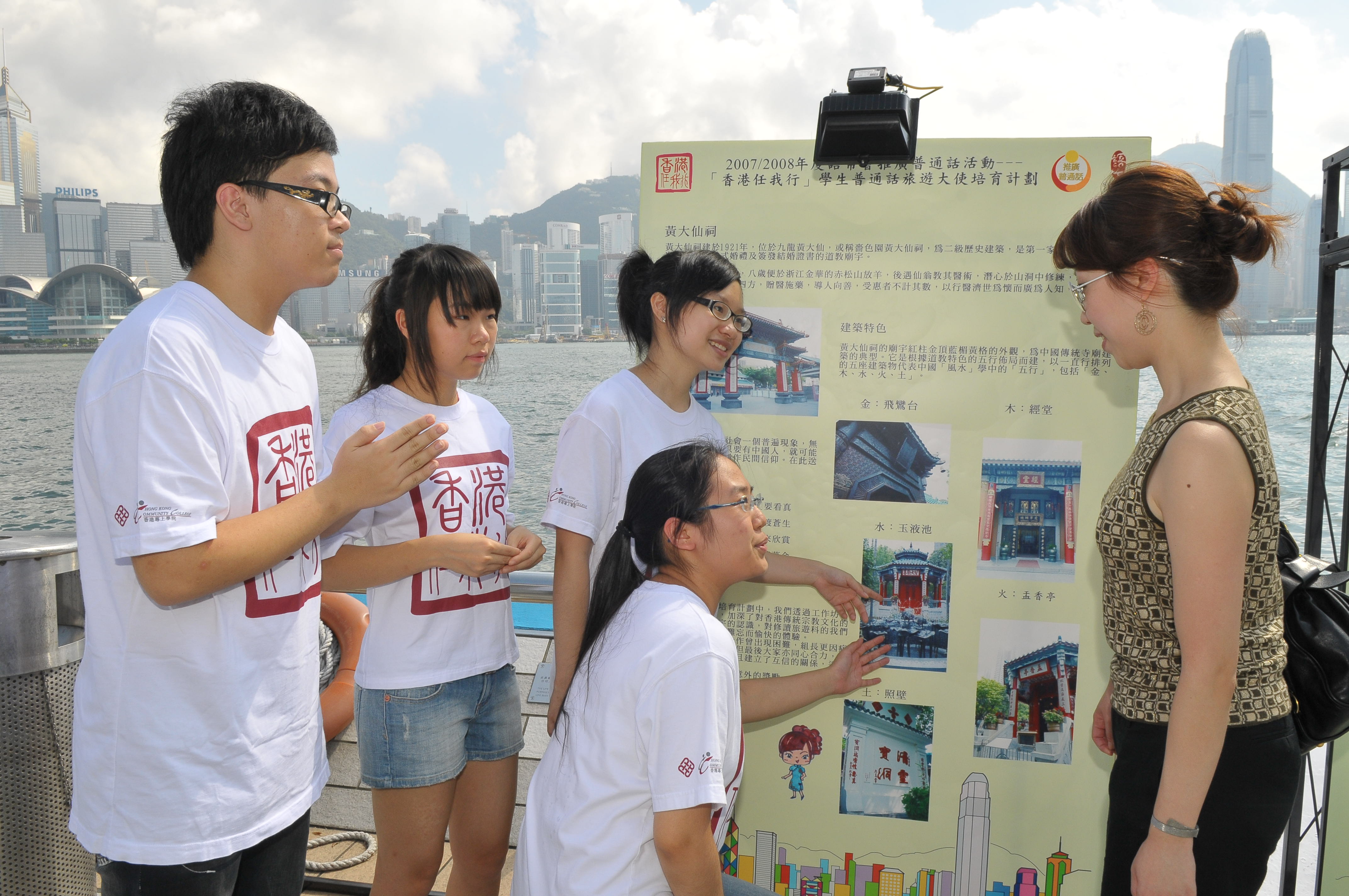 Caption
A team of student tourism ambassadors brush up their Putonghua speaking skills by introducing one of Hong Kong's famous scenic spots, Wong Tai Sin Temple, to a visitor.