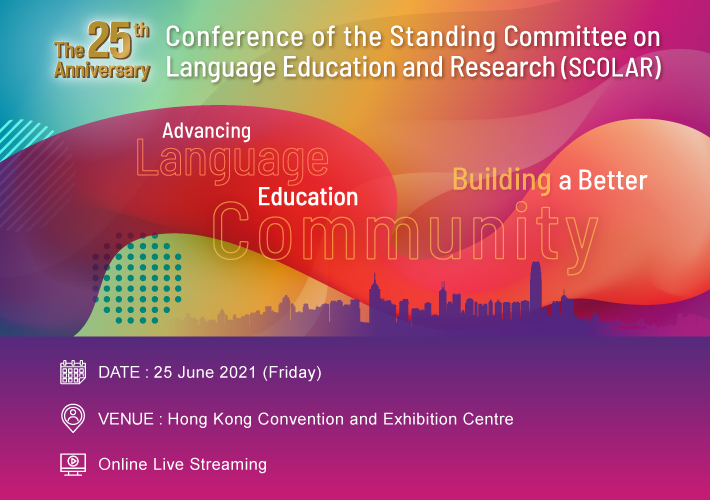 The 25th Anniversary Conference of SCOLAR
With a view to showcasing parts of the efforts of SCOLAR over the years, as well as creating a platform for various stakeholders to exchange knowledge on topics of strategic importance to the language education in Hong Kong, the 25th Anniversary Conference (the Conference) as part of a series of celebratory activities marking the 25th anniversary of the establishment of SCOLAR in the year of 2021 will be held with the theme of "Advancing Language Education, Building a Better Community".
Welcoming Remark
Mr Lester Garson HUANG, S.B.S., J.P.
Chairman of the Standing Committee on Language Education and Research
Opening Remark
Officiating Guest, Mr Kevin YEUNG Yun-hung, J.P.
Secretary for Education
Guest Speakers
Professor CHENG Kai-ming, S.B.S., J.P.
Emeritus Professor and Director of Education Policy Unit
Faculty of Education
The University of Hong Kong
Professor Piet VAN DE CRAEN
Emeritus Professor
Department of Linguistics
Free University of Brussels
Professor CHAN Shui-duen
Department of Chinese and Bilingual Studies
The Hong Kong Polytechnic University
Professor ZHOU Qing-sheng
Distinguished Professor
The School of Linguistic Sciences and Arts
Jiangsu Normal University, and Researcher
The Institute of Ethnology and Anthropology
Chinese Academy of Social Sciences
Professor LI Wei
Chair Professor of Applied Linguistics
Director of the Centre for Applied Linguistics
UCL Institute of Education
---
If you have any enquiries, please contact
Ms TSANG at (852) 3165 1183 or Mr CHENG at (852) 3527 3049.
---